Welcome To KOOLSpin
Are you aware that heating and cooling account for nearly half of your home's energy costs? It's true, and one of the biggest reasons why has to do with your attic.
In the summer, your attic builds up heat, effectively increasing your home's overall temperature, making your HVAC system work harder to keep your home cool. In the winter, it loses that heat, decreasing your home's overall temperature, making your HVAC system have to work harder to keep your home warm. Many people do nothing to change this, dealing with both the economic and environmental impact that this can have. Thankfully, there's KOOLSpin.
Developed by the experienced technicians at Healthy Home 365, KOOLSpin is a solar-powered fan that regulates the temperatures in your attic year-round. In the summer, it pulls hot air out of it, helping keep your attic cool, which reduces the amount of strain on your air conditioning. In the winter, it prevents moisture build up which can lead to mold, fungus and mildew issues.  KOOLSpin attic fans can extend the life of your roof, lower your energy bills, and increase your home's overall air quality.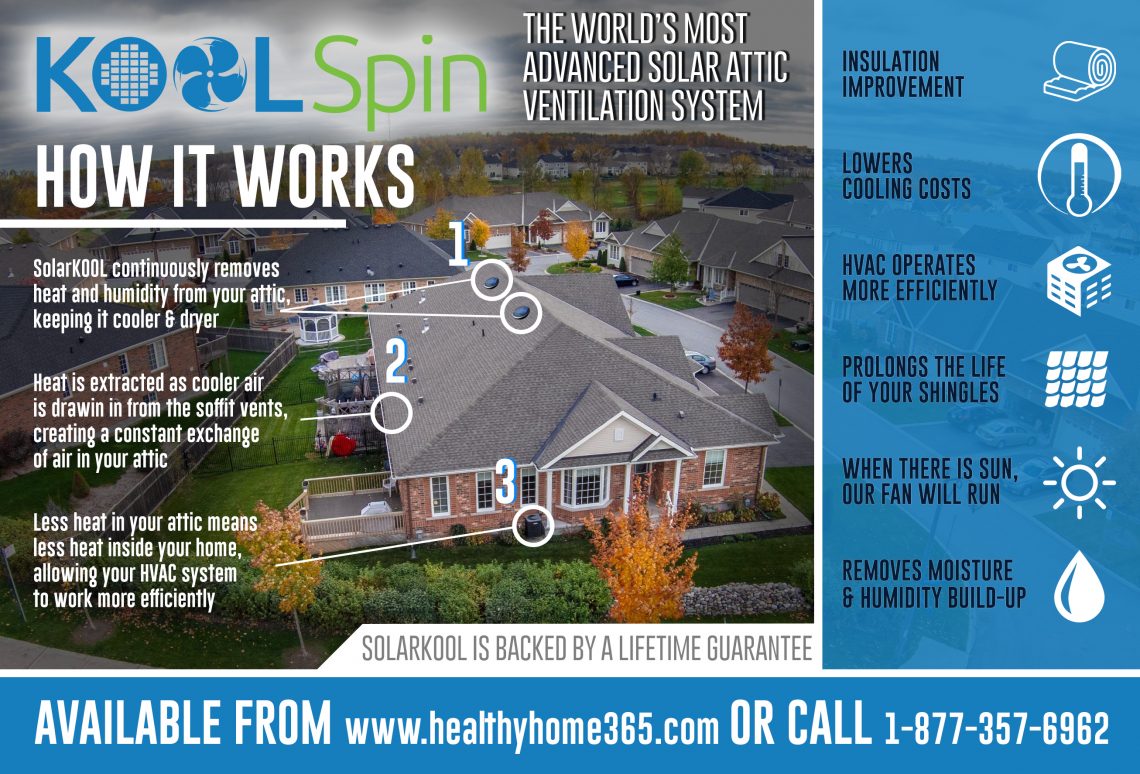 High-impact, 24-watt solar panel delivers durability and power.
Quiet, direct-current motor comes with a lifetime warranty.
Precision-balanced fan blades constructed using non-corrosive aluminum.
Solar panel bracket is adjustable, allowing you to capture the maximum amount of sun possible.
Top-quality flashing is made using commercial-grade, powder-coated aluminum.
Stainless steel screen prevents debris as well as birds and pests from obstructing the fan or entering your home.
Installs quickly and easily, without wiring, structural changes, or repainting of your home.
System is watertight, leak-proof, and maintenance free.
KOOLSpin Solar Attic Fans
offer a simple, environmentally friendly way to protect your home and save money.
These fans are powered completely by solar energy, so they cost nothing to operate—yet deliver big benefits. They're sleek, compact, quiet, and powerful. And no matter what type of roof you have, be it shingle, shake, tile, or pitch, there's a model to fit. KOOLSpin fans for residential and commercial use install directly on virtually any roof type. For gabled roofs, the fan mounts to your existing gable opening, and a roof-mounted remote solar panel provides the power.
Solar powered, so as long as there's sun, you've got free power.

Fits any roof pitch and adapts to most roofing systems.

Low-profile design blends right in with your roofline.

Keeps your attic cool and moisture free.

Helps prolong the life of your roof.

Helps reduce your energy spending.
KOOLSpin Solar Attic Fans are so energy efficient that they qualify for Federal Solar Tax Credits. And like all of our products, they come with a Lifetime Guarantee. When you buy a KOOLSpin Solar Attic Fan, you know you're getting a top-of-the-line, eco-friendly solution that will last a lifetime.